Services
same day crowns

We have the latest in 3D printers, and can now offer patients same day crowns with just one appointment. We no longer need to take an impression, we use the latest in video technology to capture the contours of your tooth, and an hour later your new crown has been crafted by our 3D printer, ready to install. All this is done in the one appointment!
painless ozone treatment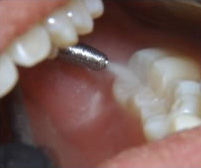 Use of the latest laser technology allows us to detect and treat tooth decay before you need a filling! Once the early decay is detected, we can treat it with ozone gas, killing the bacteria that cause the decay. Fast, painless and effective treatment for tooth decay, with no drilling required!
bleaching

We offer patients a take-home bleaching kit which allows you to avoid excessive time in the surgery. This is the most effective and convenient way of bleaching your teeth, and allows you to be in complete control of the level of whiteness that you want to achieve. Also ZOOM! instant bleaching - one appointment bleaching available.
veneers

John has undertaken advanced training in cosmetic dentistry and has completed over 1,000 porcelain veneers. Making small changes with veneers can dramatically improve the look of your smile.
tooth implants
We can reconstruct your smile with tooth implants. Implants are used to replace teeth missing due to decay or accident. We match your existing teeth so that no one could tell the new from the old - giving you your smile back!
nervous patients

We are able to cater to the needs of patients who are especially nervous by providing treatment options such as sedation or dental gas to make your visit a more pleasant and relaxed one. Local anaesthetic is delivered painlessly. We also offer the latest in painless laser detection of decay and painless ozone gas treament of decay.
hygiene treatment

Our fully qualified hygienist will not only remove stains, scale and have your teeth feeling and looking beautiful, but will give you the information and guidance that will keep them that way.
Let us show you how
prevention works
!
---